In this IQ Option review I'm going to take a closer look at one of the biggest binary option brokers out there. From their offers to their software, read everything worth knowing in the following IQ Option review. Since IQ Option is not regulated to operate within the US, I'd recommend US citizens to check out Nadex instead.
Disclaimer: Any opinions, news, research, analyses, prices, or other information offered by us here in this IQ Option Review, is provided as general market commentary, and does not constitute investment advice. boaa group Limited will not accept liability for any loss or damage, including without limitation to, any loss of profit, which may arise directly or indirectly from use of or reliance on such information.
IQ Option Review – General Information and Regulations
IQ Option is a binary options, stocks, cryptocurrency, ETF and FOREX broker consisting of the following two entities:
IQ Option Europe Ltd. (previously known as Investlab Holdings Ltd.) operates out of Cyprus and is regulated by the Cypress Securities and Exchange Commission (CySEC), as you can see at https://cysec.gov.cy/en-GB/entities/investment-firms/cypriot/40647/, therefore we are safe to say that IQ Option is no scam, but a trustworthy broker like all other brokers regulated by CySEC operating for a couple of years. IQ Option Europe Ltd. provides its services for traders from the following countries: Austria, Bulgaria, Croatia, Cyprus, Czech Republic, Denmark, Estonia, Finland, France, Germany, Greece, Hungary, Iceland, Ireland, Italy, Latvia, Lichtenstein, Lithuania, Luxembourg, Malta, Norway, Poland, Portugal, Romania, Slovak Republic, Slovenia, Spain, Sweden, The Netherlands, United Kingdom.
IQ Option Ltd. which is registered at Seychelles, and is not regulated.

IQ Option Review – Products and Services
Traders may trade (binary) options, stocks, cryptocurrencies, ETFs and FOREX using IQ Option's website, mobile applications and trading software, allowing them to trade almost everywhere. Everything needed is a stable internet connection.
Cryptocurrencies at IQ Option
Traders can invest in a total of 15 mayor cryptocurrencies, as Crypto CFDs, at IQ Option without the need to create their own wallets. On top of that IQ Option is currently giving away tokens for another cryptocurrency called OTN on weekly bases, depending on the amount of commission a trader caused.
Cryptocurrencies currently available for trading at IQ Option, showing their gain over the last three months up to the 12.01.2018 in brakets:
* added on 20th of January 2018 as part of an update to this article.
As you can see, even though cryptocurrencies are considered a high risk investment, almost all of the coins, available for trading at IQ Option, experienced a significant gain over the last three months.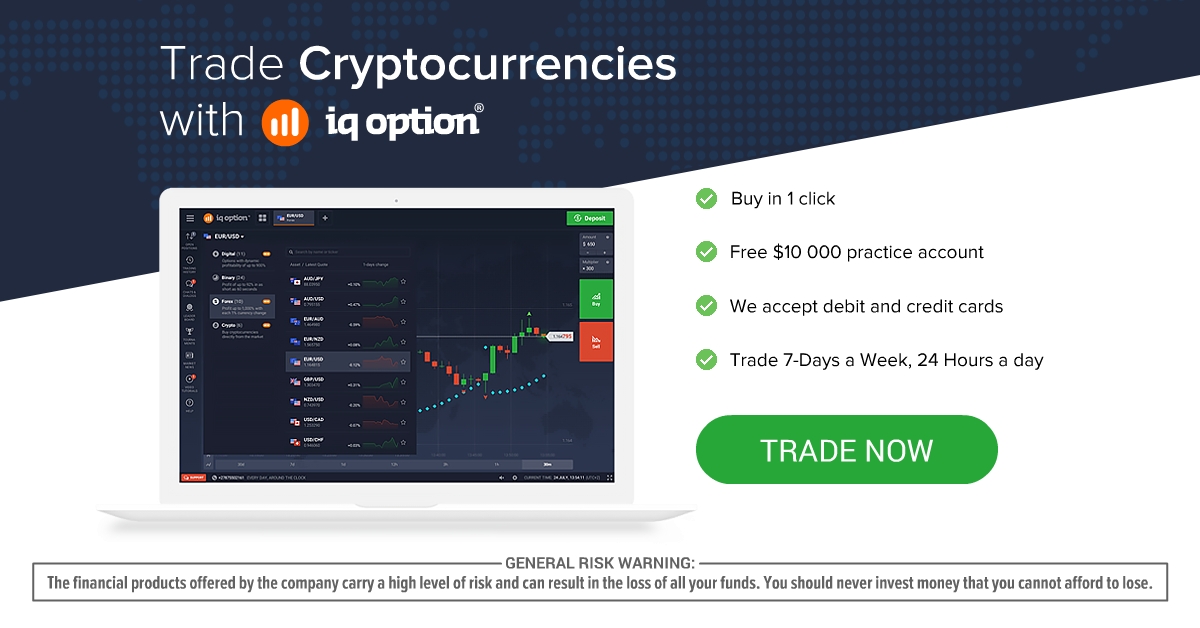 If you are not yet familiar with cryptocurrencies and how the blockchain works, you should read the following article https://medium.freecodecamp.org/the-definitive-omisego-beginners-guide-f95dcdf8635c, focusing on a very promising coin called OmiseGO (OMG), based in Thailand. OMG is one of the most promising coins in South-East-Asia and therefore, in my opinion, worth a look.
Due to lower transaction fees when converting coins into FIAT or exchanging them into other coins, seasoned cryptocurrency traders may keep their own wallets for each coin but for 99% of all people IQ Option is probably the easiest way to invest into the mayor cryptocurrencies out there. The minimum deposit of only 10,00 € is also a great benefit compared to other cryptocurrency services.
Forex Trading at IQ Option
Since IQ Option's main service are binary options their selection of currency pairs and commodities to invest in might not be as big as the selections other FOREX focused brokers like FXCM are offering. Still all the mayor currencies like Euro (EUR), United States Dollar (USD), British Pound (GBP), Japanese Yen (JPY), Australian Dollar (AUD), Canadian Dollar (CAD) and so on and there for you to trade.
FOREX is short for "foreign exchange" and describes the biggest and most liquid financial market for currency exchange. Traders try to estimate the markets future direction and gain profits by buying currency cheap and selling it for a higher price and vice versa. The main difference to binary options is, that your profit depends on how big the price difference is in the end, whereas options have a fixed payout no matter how far the price moved in your favour.
Compared to other brokers, like FXCM, IQ Option's trading software lacks the option to execute so called trailing stops and doesn't offer as many indicators as other brokers might do, but comes with all other features a FOREX trader might need.
On the other hand IQ Option offers a more or less unique feature, allowing you to choose your desired leverage between 1:1 and 1:1000 for each trade individually, whereas all FOREX brokers I've traded with so far come with a fixed leverage per account. This grants you more flexibility managing your risk and possible gain per trade, and is definitely a huge upside compared to all other FOREX brokers out there.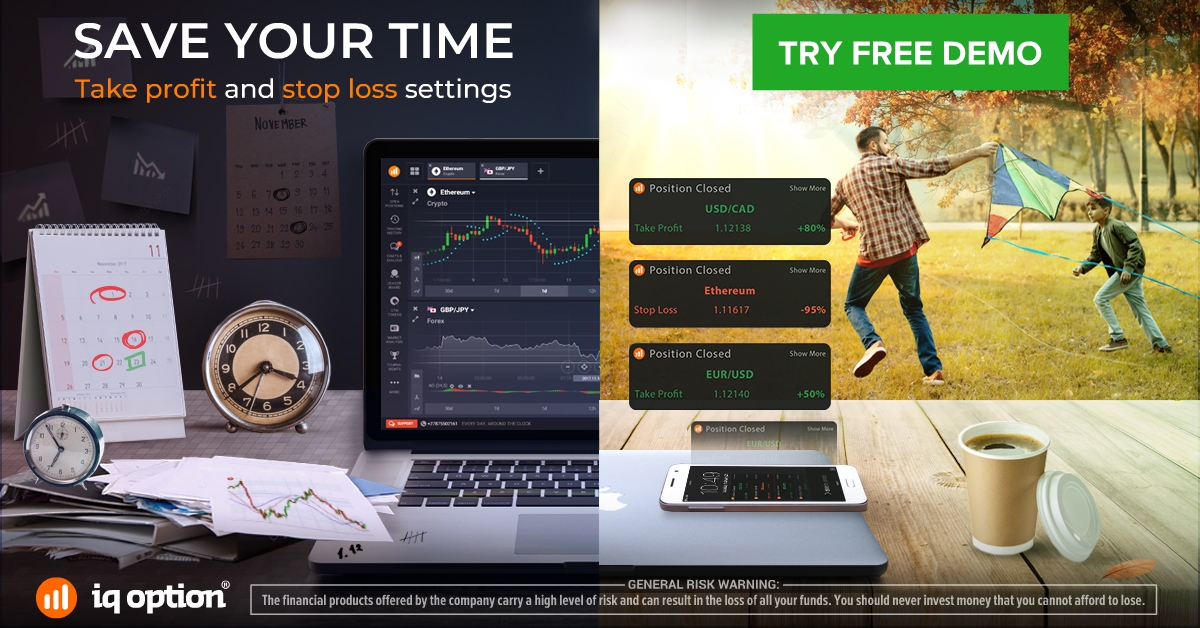 Stock and Commodity Options Trading at IQ Option
Unlike many other brokers, IQ Option allows you to trade commodities like Gold and stocks like Apple, Amazon, Microsoft, Facebook and many more in form of binary options. So instead of actually buying the stock for it's current price you are able to invest as little as 1 € into the stock or commodity of your choice, betting if the price is going to rise or fall until a specified time in the future.
That brings us to the up- and downside of trading stock options at IQ Option. The mayor upside is the simple fact that you are able to invest as little as 1 € into Apple for example, instead of having to pay roughly 175 $ for one share with your regular stock broker. On the other hand you can't hold the stock for the next five years and profit from it's longterm increase in value. Also binary options on stocks like Apple do not entitle you to receive dividends, since they are just CFDs (Contract for Difference), or simply put bets if the stocks or ETFs price is going to rise or fall. So if you are looking for a broker to buy your favourite stocks and actually own the shares, IQ Option is definitely the wrong choice. However, if you are just planning to make decent short term profits by trading the reaction a stock might have on certain news IQ Option is the right choice, as it offers you up to 90% payout on your investment*, without the stock actually needing to rise (or fall) 90%.
*amount to be credited to the account for a successful trade.
Binary Options Trading at IQ Option
Last but not least IQ Option allows you to trade binary options on currency pairs like EUR/USD, USD/CAD and many more as well. Compared to other brokers the main advantage is their easy to use software (see further below) and the possibility to trade so called digital options.
Digital options are a mix between FOREX trading and conventional options, granting you a fixed payout, like normal options, if the price moves above or below a chosen level but also granting you additional profits the further the price moves in your favour. The downside of digital options is that you are only able to place them with either one or five minute expiry, so you can't open digital options for the end of next week. Still those digital options offered by IQ Option allow you to gain insane profits during news events, since depending on the news itself prices usually rise or fall quite far immediately after the announcement. This gives you the possibility to only risk a small amount but gain way more than 100% if your prediction is right.
For regular binary options your timeframes include one, two, three, four and five minutes expiry as well as certain intervals throughout the day and options for the results at the end of the day, week or month giving you a lot of possibilities to invest your money and gain decent profits. For the 10 to 15 minutes options you may as well want to checkout our Binary Options Trading Strategy. If that's not fast enough for your, and you are up for a faster but also slightly more risky strategy checkout our Binary Options Martingale Strategy.

Account Types at IQ Option
Like many other brokers out there IQ Option offers different account types, with reasonable requirements. Compared with FXCM for example, which is offering accounts starting at 50 € but requires you to invest at 20.000 € or cause more than 50 Million Euro in trading volume, IQ Option offers it's so called "VIP" premium account as soon as you deposited a total of 3.000 €, which doesn't have to be in a single deposit.
IQ Option Demo Account
Like all other brokers I've traded with so far, IQ Option also offers a free demo account allowing you to simulate your strategy or just get to know the IQ Option trading software with a virtual 10.000$ bankroll which you can refill in case you busted it.
Even for real money traders, the demo account is an easy and simple way to simulate or test new strategies without actually risking your own money.
One upside compared to other brokers is, that you can switch between the real money and demo account without the need to logout. Credentials for both accounts are the same, you simply switch between the accounts by clicking on your balance in the top right corner and selecting the demo account balance from the drop down menu.
IQ Option Real Money Account
With a minimum deposit of just 10 € and a minimum investment of as little as 1 €, IQ Option is one of the most user friendly brokers out there, allowing you to trade with small amounts until you are sure you know what you are actually doing.
It also allows people, who believe that demo accounts behave different than there real money counterparts, to test out the software and there strategy with a very small amount instead of risking thousands of dollars, just to ensure a strategy is working properly.
IQ Option Real Money VIP Account
The premium account offered by IQ Option is simply called "VIP" and will be unlocked as soon as you deposit a total of 3.000 €. VIP benefits include a personal account manager helping you by explaining the available analytical tools to you for example. But that's not all, one mayor difference is the increased profitability of certain assets, increasing the fixed payout you get whenever your options are in the money (ITM). That might not seem like a huge deal, but an increased payout on almost all of your options also means that your strategy doesn't have to be profitable that often but still accumulates an overall profit.
If you are trading options with an 80% payout your predictions need to be correct 55.55% of the time in order to achieve a break-even result.
If your are now receiving a 90% payout because of your VIP status at IQ Option you suddenly only need to be right 52.36% of the time.
Therefore even if you are only planning to trade with a small amount like 100 € or even less, if you have the funds you should always deposit the full 3000 € as soon as possible as it will increase the payouts on most assets affecting the overall profitability of your strategy causing your to earn more money. You might just withdraw the paid "overhead" after a couple of weeks.
And last but not least VIP traders also have access to certain training materials helping you to properly use certain indicators and other aspects related to your future career as a binary options trader.

Deposits and Withdrawals at IQ Option
The most important point regarding deposits and withdrawals at IQ Option is, that compared to some other brokers, IQ Option doesn't charge any fees on your deposits or withdrawals, with the only exception being withdrawals by wire transfer, where the fees charged by the executing credit institute are deducted from your withdrawal amount.
Other than that IQ Option does however charge a small fee for inactive accounts. If you don't perform any operations on the platform for 90 days and there is some amount of money remaining on the trading account, a one-time 50 € fee for servicing the inactive account will be deducted, but not more than the total of the trading balance. For example, if there's 0.4 USD/EUR on trading account, not more than 0.4 EUR/USD can be charged. Therefore you should always withdraw your funds, if you don't plan to trade on IQ Option in the near future.
Also worth mentioning is the minimum deposit amount of just 10 € as well as the minimum withdrawal amount of just 2 €, allowing your to trade with a smaller bankroll as well. Although I recommend everyone to deposit a total of 3.000 € as soon as possible to unlock all of the VIP benefits IQ Option offers, I urge you to not risk any money you can't afford to lose. Keep in mind that the financial products offered by IQ Option carry a high level of risk and can result in the loss of all your funds.
Deposit Methods at IQ Option
IQ Option offers the most common methods to easily fund your account without any delay. I'd like to mention though that the deposit methods mentioned here are available for my account as a German resident, some options may not be available in other countries. Also there may be other options available, which are not visible within my account.
Visa (Verified by VISA)
MasterCard (3D Secure)
Neteller
Skrill (Money Bookers)
Sofort
WebMoney WME
WebMoney WMZ
The minimum deposit amount is as little as 10 €, which is quite low compared to the minimum amounts of other brokers.
Withdrawal Methods at IQ Option
Just like their deposit methods, IQ Option also covers all it's bases when it comes to transferring your profits to you. Again I'd like to mention that depending on where you are from some of these methods might not be available to your, while others might be.
Visa
MasterCard
Neteller
WebMoney WME
WebMoney WMZ
Wire Transfer
As mentioned above, all those withdrawal methods, except wire transfer are without any withdrawal or transfer fees. Only for wire transfers, transactions costs by the executing financial institute are deducted from your withdrawal amount.
The minimum withdrawal amount is as little as 2 €, while the maximum that can be withdrawn in one transaction is 1.000.00 €. Some withdrawal methods may require you to use them for deposits before.

Support at IQ Option
All of the benefits mentioned above wouldn't matter if there was no way to get in touch with IQ Option support whenever you've a question or encounter a problem.
Contact IQ Option by Postal Service
In case you've to provide IQ Option with certain documents, or simply prefer an old fashioned way of communication, you may reach IQ Options at the following address:
IQOption Europe Ltd.
Yiannis Nicolaides Business Center
Agiou  Athanasiou Avenue 33
44102 Agios Athanasios, Limassol
Cyprus
Don't forget to mention your username, email address and your desired reply method though.
Contact IQ Option by Phone
Like all the other mayor brokers out there IQ Option operates a support hotline allowing you to call them whenever you encounter a problem, or have a question related to their services.
Contact IQ Option by Mail/Ticket
On top of that they've also included a ticket system into their trading software and website allowing you to contact them 24/7 whenever you need help or encounter a problem related to their products or services. On their website you may reach their ticket system at https://eu.iqoption.com/en/tickets.
Trading Software at IQ Option
Unlike many other brokers out there IQ Option does not utilise MetaTrader 4 or 5 for trading, but instead offers is own custom software for almost all devices out there plus a web-interface to allow traders to trade on devices without having the actual trading client installed.
IQ Option trading software is currently available for the following operating systems:
Desktops & Laptops

Windows 7, 8, 8.1, 10
macOS
Ubuntu 14.04 or newer

Mobile Devices

iOS 8.0 or newer
Android 4.0.4 or newer
Not only is there trading software available on almost every possible device you may be using, it's also one of the most intuitiv systems I've every used, offering a simple interface with easy to use advanced indicators and functions for more experienced users.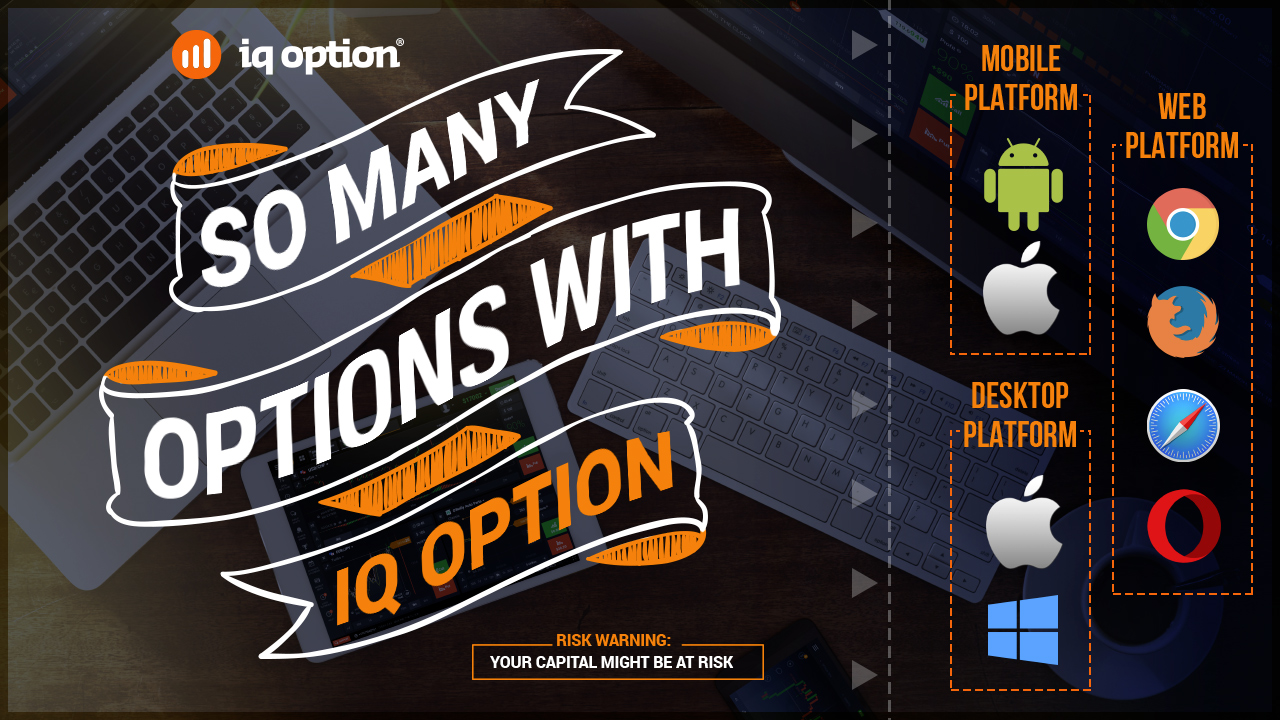 IQ Option Review Conclusion
In my opinion, after trading a while using IQ Option and writing this IQ Option Review, I can recommend IQ Option to everybody without any restrictions. On all relevant aspects IQ Option covers all it's bases by providing you with a lot of different assets to invest in, and allowing traders with smaller amounts also to proof their knowledge and gain reasonable profits. Here's a short summary of the mayor benefits IQ Option has to offer:
1 € minimum trade
10 € minimum deposit
2 € minimum withdrawal amount
100% FREE demo account
VIP conditions after 3.000 € deposit (in total)
More than 500 assets you can trade
Web-based interactive system
Trading apps for almost all devices
Now, as always I encourage you to leave your opinion, or any questions you might have in the comment section below. Also if you want to show your gratitude you might wan't to take a look at our Support Us page.

General Risk Warning: The financial products offered by the company carry a high level of risk and can result in the loss of all your funds. You should never invest money that you cannot afford to lose.
---
Updates:
20.01.2018: Added newly availble Cryptocurrencies to this IQ Option Review
20.01.2018: Updated"Disclaimer" in the beginning of this IQ Option Review
24.01.2018: Updated information regarding the IQ Option entities, and added some disclaimers.
26.01.2018: Added Promotional Banners to this IQ Option Review.
07.02.2018: Removed some IQ Option Affiliate Links from this IQ Option Review.
08.02.2018: Added General Risk Warning at the bottom of this IQ Option Review.
11.02.2018: Minor corrections to statements regarding "stock and commodity options" in thi IQ Option Review.